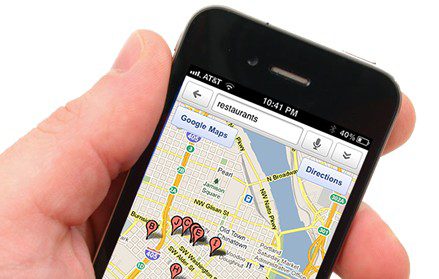 The mobile revolution has delivered new efficiencies and experiences to brands and consumers alike, but most of benefits have remained out of reach for small businesses and local industries. Part of the problem is that of scale: mobile advertising platforms allow you to target certain demographics, but those ads shoot out indiscriminately and unaware of a user's location.
That's all about to change. At a recent San Francisco tech conference sponsored by Morgan Stanley, Google's Chief Business Officer Nikesh Arora said that we're on the cusp of another mobile revolution in which the number of companies who advertise on mobile will vastly expand.
"The desktop world took the world of advertisers from tens of thousands to a few million. I think as we go forward, that a few million becomes tens of millions as mobility becomes more relevant."

– Nikesh Arora at the 2014 Morgan Stanley Technology, Media and Telecom Conference.
It seems intuitive, but the reality is that small businesses have been locked out of the mobile marketing sphere. This is mostly due to infrastructure problems, but for the first time it's being identified and addressed. We recently talked about a Google initiative that aims to bring programmatic buying into the local news space. That project seems to be just one of many that Google plans to roll out over the coming year, although they're hardly the only tech titan making inroads into local mobile advertising.
For evidence of where the tech sector sees mobile going, just look at the Yelp and Yahoo deal and the partnership between Foursquare and Bing. Facebook, too, could capitalize on its purchase of WhatsApp by introducing a mobile payment system that will let you swap money with friends or purchase a cup of coffee from your local Starbucks. All of this points to a major role for small businesses in the future of mobile.
It's still early, but we can expect to see a major push by Google, Yahoo, Facebook, and others to roll out easy-to-use platforms that allow small businesses to target their ads based on location. Perhaps there will be some new platform that goes beyond the mere delivery of ads and helps local businesses get their messages across more effectively than the current system. However it works out, one thing is sure: the local mobile revolution is only just beginning.