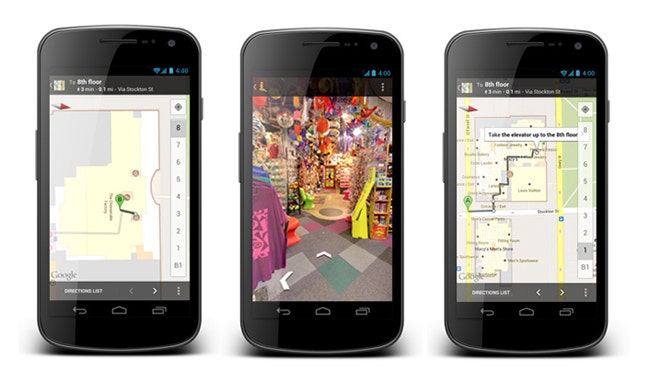 For retailers, bridging the gap between online and offline is more possible now than in years past. Consumers are actively looking for ways to interact with brands, and location services are enabling brands to forge those connections with beaconing and hyperlocal ad targeting. And now that brands have started targeting consumers to their stores with beaconing, they must harness the same location services to map out their physical store locations.Google just started rolling this out, and it's only a matter of time until Apple does the same.


Beacon Breakdown
There are two main producers of beacons: Google and Apple. These competitors have created similar services, but provide them in different ways:
Apple- iBeacon extends Location Services in iOS. iOS devices alert user-enabled apps when users approach or leave a location. In addition to monitoring location, an app can estimate your proximity to an iBeacon (for example, a checkout counter in a retail store). Instead of using LAT/LONG data, iBeacon uses a Bluetooth low energy signal to define specific locations.
Google- Eddystone, an open source, cross-platform Bluetooth LE beacon format was launched by Google last month. The Eddystone beacon is a small battery-powered transmitter that sends out information about specific points of interest, and that information is then passively picked up by a smartphone or tablet in range of the transmitter.

Historically, we have seen national enterprise retailers like Macy's, Target, and BestBuy integrate beacon technology and extract user data to better personalize their targeting strategies. But enterprises should bare in mind that beaconing often times, customers are not brand-loyal enough to want targeted ads. Beaconing is an opportunity to learn about users and boost business only if customers enable the applications for brands to target them.
In-Store Mapping
Consumer culture is shifting towards in-store researching, and retailers need to re-evaluate their location services to better assist consumers. 51% of consumers use an app during in-store shopping trips. And while beaconing seems like the most beneficial strategy for brands to connect with consumers, it's more important to keep what consumers value in mind.That's where in-store mapping comes in.

With Google Maps' in-store mapping, Geomarketing speculates that various enterprise-level brands have uploaded their in-store location information to give a full turn-by-turn maps within retail locations. In comparison to beaconing, indoor mapping satisfies user intent to search for products, something that is often ignored by retailers with their sights narrowed on the bottom line. Brands who push out their location data for users to access online might have a better opportunity to generate loyalty from users who are interacting with them in store.
Invest in Data
In terms of sales, your online experience must match your in-store experience, and part of that is boosted by investing in accurate, actionable small data. If you are not mapping, or are providing incorrect small data to providers like Google Maps and Apple, customers might be left at the wrong aisle and without the products they are searching for. Aside from your name, address and phone number to get to your store locations, there also needs to be data that helps customers make it through the store and to the check out.
Learn more about how you can boost your small and big data in this interactive whitepaper: